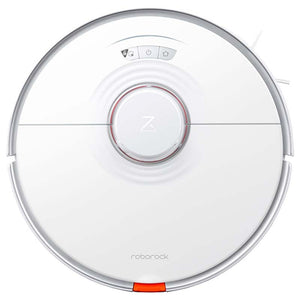 Roborock S7 Robot Vacuum Cleaner | White
Roborock RSD0194CE S7 Robot Vacuum Cleaner | White
PreciSense LiDAR laser navigation.
Automatic room recognition.
Scratchsafe brushes and wheels.
Sensient sensor suite.
E11-rated HEPA filter.
Adaptive trajectory algorithms.
Automatic recharge.
Child lock.
Status indicator lights.
Take your home cleaning to a new level with the Roborock S7 robot vacuum cleaner, featuring sonic mopping technology capable of up to 3000 passes per minute. In this way, the Roborock S7 removes dry stains that other robots can't clean, such as coffee or mud stains.
This powerful mopping system is combined with Roborock's first self-lifting mop, which increases both the convenience and effectiveness of cleaning in your home. To this we must add a new main brush made entirely of rubber, as well as the HyperForce system up to 2500 Pa.
VibraRise sonic mopping system - Along with the S7, Roborock is introducing something they have dubbed VibraRise. This is a new sonic vibration mopping system that reaches 3000 passes per minute. With this and a 300 ml electronic water tank, the Roborock S7 deep cleans the floor quickly and efficiently.
In addition, the mop automatically lifts up when it detects a carpet so that it can vacuum and mop your entire home at the same time.
New all-rubber brush - On the other hand, the Roborock S7 adapts to inclinations and always keeps its main brush close to the ground, raising or lowering as needed. It could be compared to the operation of a car's wheel suspension system, for example.
In addition, the old bristle brush design has been replaced by a completely new one with rubber fins. This material is more durable, drags dirt better and makes it harder for hairs to get tangled.
HyperForce suction system with 2500 Pa of power - Another advantage of the S7 robot vacuum cleaner is that it comes equipped with Roborock's HyperForce suction technology, which reaches a power of up to 2500 Pa, more than enough to pick up from the finest particles to the coarsest ones.
470 ml dust tank and 5200 mAh battery - More capacity for your vacuum cleaner means less effort for you. The 470 ml dust tank stores several days' worth of dirt*, and the 300 ml water tank can clean up to 200 m2* in a single session. In addition, its 5200 mAh lithium-ion battery provides a battery life of up to 3 hours*.
*These data were obtained from internal laboratories. Actual results may vary due to differences in environment and usage conditions and may not reflect actual product.
LiDAR laser navigation system - Without a doubt, the Roborock S7 delivers optimal performance in every cleaning. Something that would not be possible without the precise LiDAR laser navigation technology, which generates accurate maps of the house or premises, identifying rooms on up to 4 different floors.
Through the Mi Home mobile APP you can visit these maps and track the exact route, knowing where it has vacuumed and where it has mopped; establish restricted areas and virtual walls to limit access to certain places, set cleaning schedules and routines, and so on.
Voice control with Alexa, Google Assistant or Siri - But hey, if that's not enough and you want to control your Roborock S7 vacuum cleaner in a smarter way, you can do that too thanks to its compatibility with Amazon Alexa, Google Home and Siri. Just say, "Hey Google, ask Roborock to charge," or "Alexa, ask Roborock to clean." And nothing else will be needed!
Technical specifications Roborock S7 White - Robot Vacuum Cleaner:
General parameters
Brand: Roborock
Model: S7
Colour: White
Functions: Sweep, Vacuum, Mop, Scrub
Technical parameters
Suction power: 2500 Pa
Dust tank capacity: 470 ml
Water tank capacity: 300 ml
Battery capacity: 5200 mAh
Navigation
Cleaned area indicator: Yes
Automatic partition: Yes
Programming of areas to be cleaned: Yes
Virtual wall: Yes
Navigation mode: LiDAR
Connectivity
Control: Automatic mode and from APP
APP: Compatible with Android and iOs
Connection: WiFi 2.4 GHz
Dimensions and weight
Dimensions of the vacuum cleaner: 353 x 350 x 96.5 mm
Weight of the vacuum cleaner: 4.7 kg
Package contents
1 x Roborock S7 White - Robot Vacuum Cleaner
1 x Charging base
1 x Cleaning Tool
1 x Power Cable
1 x Water tank
1 x Mop
1 x Side brush
1 x User Manual
Carlos Delivery
We Offer Free Same-Day Delivery to All Our Local Gibraltar Customers…
Same-Day Delivery is Available on All Orders Placed Before 14:30 (Monday-Friday).
We Also Aim to Deliver on Saturday's & Bank Holidays!
At Carlos, we endeavour to provide a seamless delivery service that allows you to continue shopping from the comfort of your home.
Getting you your order as soon as possible is a priority, however, same-day delivery is subject to the availability of our delivery team.
Our Delivery Team is Active During the Following Hours:
15:30 – 18:30 (Monday – Friday)
15:00 – 16:00 (Saturday's & Bank Holidays)
If you experience any issues or have a query regarding our delivery service, please reach out to our customer service team: support@carlos.gi
Shipping Abroad
For Any Orders Outside of Gibraltar Please Contact Us Via One of the Following Methods:
Email: support@carlos.gi
WhatsApp: +350 200 78841
We Will Do Our Best To Attend Your Enquiry Within 24 Hours!
---
We Also Recommend
---