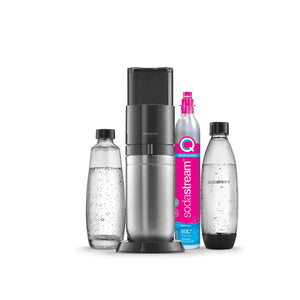 SodaStream DUO Sparkling Water Maker Starter Kit – Black
SodaStream DUO Sparkling Water Maker Starter Kit – Black
Make sparkling water at home
Cut down on plastic bottle use
Easy-to-connect gas cylinder
Large carbonation button for added comfort
Recyclable gas cylinder included
With two 1L glass bottles and two 1L reusable plastic bottles

Product dimensions - 31 x 16 x 44cm H.
It's never been easier to turn boring old tap water into thirst-quenching sparkling water thanks to SodaStream's Duo Megapack. With a simple pull-down lid and an easy-to-lock lever, all it takes is a few pushes of a button cut down on the amount of cans and plastic bottles you use and start enjoying fizzy drinks without having to go all the way to the shop.
SodaStream have made the Duo easier and more comfortable to use than previous models by adding a Quick Connect cylinder system, so you no longer have to go to the trouble of screwing in your gas canister. It has a lid that easily locks into place with a simple lever at the front, and a sleek, stylish design will look great on any kitchen worktop. It's also the first SodaStream model that can be used with both glass and plastic bottles, so you can use the glass one at home and the plastic one on the go.
Easy-to-install gas cylinder
As if the simple screw-in system of previous SodaStream models wasn't straightforward enough, they've now gone one step further and made it even easier to install the gas cylinder, with a new design that lets you lock it in with a quick and simple lever – it just means it uses a slightly different gas cylinder to previous models.
Fizz at your fingertips
To start enjoying bubbles at home whenever you want, simply fit the included 60-litre gas cylinder into the back of the drinks maker. Then fill the carbonation bottle with cold water, put it in the drinks maker, and then close and lock the lid into position with the lever at the front. Once you're set up, just press the button on the top to begin carbonation – three times for one second to make standard sparkling drinks, and up to a maximum of five times for drinks with a bit more fizz.
Reduces plastic bottle use
Many of us probably still buy plastic bottles of sparkling water at the supermarket. But with the worldwide concerns over plastic pollution, there's never been a better time to 'get busy with the fizzy' and buy a SodaStream drinks maker to make your own and stop adding to that plastics mountain. The Duo comes with two glass bottles and two reusable, BPA-free plastic bottles with a cap to keep in the fizz.
Add flavours for fizzy drinks
Once you've carbonated your water, you can add fruity flavour with a SodaStream concentrate (so you can enjoy your favourite fizzy drinks for less), cordial, or freshly squeezed lemon, lime or grapefruit juice.
SodaStream cylinder recycle scheme
Once the included gas cylinder has made its 60 litres of sparkling water (and saved you from using and throwing away up to 120 500ml single-use bottles) and is empty, you can either buy a Replacement Cylinder at full price, or recycle your empty one in store and exchange it for a new one at a discounted rate.
*On average, every SodaStream machine has the chance of helping you cut out the consumption of more than 1200 single-use plastic bottles and drinks cans – which seems an astonishing figure – but does make sense when you start to add up just how many fizzy drinks a busy family can get through in a week.
No electricity needed
Because the carbonation is created solely by the gas cylinder, you don't need to plug your SodaStream Duo in to make it work, so it can carry on making fizzy water wherever you want to.
What's in the box?
SodaStream Duo Sparkling Water Maker
60 litre gas cylinder
2 x 1-litre glass bottle
2 x 1-litre dishwasher-safe reusable bottles
Carlos Delivery
We Offer Free Same-Day Delivery to All Our Local Gibraltar Customers…
Same-Day Delivery is Available on All Orders Placed Before 14:30 (Monday-Friday).
We Also Aim to Deliver on Saturday's & Bank Holidays!
At Carlos, we endeavour to provide a seamless delivery service that allows you to continue shopping from the comfort of your home.
Getting you your order as soon as possible is a priority, however, same-day delivery is subject to the availability of our delivery team.
Our Delivery Team is Active During the Following Hours:
15:30 – 18:30 (Monday – Friday)
15:00 – 16:00 (Saturday's & Bank Holidays)
If you experience any issues or have a query regarding our delivery service, please reach out to our customer service team: support@carlos.gi
Shipping Abroad
For Any Orders Outside of Gibraltar Please Contact Us Via One of the Following Methods:
Email: support@carlos.gi
WhatsApp: +350 200 78841
We Will Do Our Best To Attend Your Enquiry Within 24 Hours!
---
We Also Recommend
---