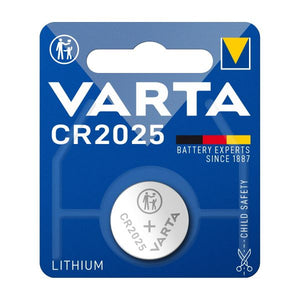 Varta CR2025 3V Lithium Coin Cell
Renata CR2025 3V Lithium Coin Cell 
3V
Lithium

High reliability.

Longer battery life due to optimally high constant voltage.

For universal use

Mostly silver oxide 1.55 V
Varta CR2025 batteries are lithium coin cell batteries that meet the highest quality standards and offer excellent reliability. In addition to the wide spectrum of memory backup power sources, Renata CR2025 lithium batteries are used for different applications in the computer and automotive industries, telecommunications, medical industry and in an increasing number of portable devices (measuring equipment, payment systems, toys etc.). Varta CR2025 batteries provide excellent storage characteristics, up to 10 years storage with minimum deterioration.
Some of the many appliances, devices, and gadgets that you can power with Varta 3-volt lithium cells:
Security devices including fire and smoke detection, alarms, and home keyless entry systems;

Medical and personal health appliances such as blood glucometers, heart rate monitors, pacemakers, blood pressure gauges, scales, fitness trackers and watches;

Entertainment gadgets, remotes, and designated child-safe toys;

Bluetooth beacons and IoT devices such as smart glasses, door bells, light switches, voice controllers, and more;

Automotive-related devices including FOB keyless entry and remote-start systems, tire pressure gauges, and remote garage door openers;

Small office and business devices such as calculators, payment devices, mobile sensors, metering and monitoring devices, and various facility management system components.
Carlos Delivery
We Offer Free Same-Day Delivery to All Our Local Gibraltar Customers…
Same-Day Delivery is Available on All Orders Placed Before 14:30 (Monday-Friday).
We Also Aim to Deliver on Saturday's & Bank Holidays!
At Carlos, we endeavour to provide a seamless delivery service that allows you to continue shopping from the comfort of your home.
Getting you your order as soon as possible is a priority, however, same-day delivery is subject to the availability of our delivery team.
Our Delivery Team is Active During the Following Hours:
15:30 – 18:30 (Monday – Friday)
15:00 – 16:00 (Saturday's & Bank Holidays)
If you experience any issues or have a query regarding our delivery service, please reach out to our customer service team: support@carlos.gi
Shipping Abroad
For Any Orders Outside of Gibraltar Please Contact Us Via One of the Following Methods:
Email: support@carlos.gi
WhatsApp: +350 200 78841
We Will Do Our Best To Attend Your Enquiry Within 24 Hours!
---
We Also Recommend
---