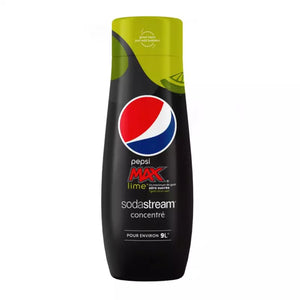 Sodastream Pepsi Max Lime - 440ml
Sodastream Pepsi Max Lime - 440ml
Pepsi Max Lime flavour sparkling drink mix
For SodaStream systems

Contains sweeteners.

The bottle contains 440 ml, which gives approximately 8 liters of finished drink.

Unopened bottle is stored at room temperature, opened bottle in the refrigerator.

 

Shake before use.
Enjoy the good taste of Pepsi Max with lime right at home. Mix in freshly bubbled, cold water.
What does the bottle contain?
Nutritional content per 100 ml drink when prepared according to instructions:

Energy: 2 kJ/0.4 kcal

Fat: 0 g

Of which saturated fat: 0 g

Carbohydrates: 0.1 g – Of which sugars: 0 g

Of which sugars: 0 g

Protein: 0 g 0 g

•Salt: 0.02 g

Ingredients: water, color (ammonia sulphated caramel), acid (phosphoric acid, citric acid), acidity regulators (sodium citrates, potassium citrate), sweeteners (acesulfame K, sucralose, aspartame), flavors (including caffeine), preservatives (sodium benzoate), antifoam (dimethylpolysiloxane).
Carlos Delivery
We Offer Free Same-Day Delivery to All Our Local Gibraltar Customers…
Same-Day Delivery is Available on All Orders Placed Before 14:30 (Monday-Friday).
We Also Aim to Deliver on Saturday's & Bank Holidays!
At Carlos, we endeavour to provide a seamless delivery service that allows you to continue shopping from the comfort of your home.
Getting you your order as soon as possible is a priority, however, same-day delivery is subject to the availability of our delivery team.
Our Delivery Team is Active During the Following Hours:
15:30 – 18:30 (Monday – Friday)
15:00 – 16:00 (Saturday's & Bank Holidays)
If you experience any issues or have a query regarding our delivery service, please reach out to our customer service team: support@carlos.gi
Shipping Abroad
For Any Orders Outside of Gibraltar Please Contact Us Via One of the Following Methods:
Email: support@carlos.gi
WhatsApp: +350 200 78841
We Will Do Our Best To Attend Your Enquiry Within 24 Hours!
---
We Also Recommend
---