Tech Energi Power Delivery QC 3.0 10000mAh Power Bank | Black
Tech Energi® TE100 PD (Power Delivery) QC 3.0 (Quick Charge) 10000mAh Power Bank On the Go | Black
Charge your smartphone or tablet from 0 - 50% within 30 mins using the TE100 PD or QC 3.0 ports
Small but mighty, TE100 supports both Qualcomm® QC 3.0 (Quick Charge) and PD (Power Delivery).
TE100 is 3 times faster than the standard 1Amp mains charger.
PD & QC 3.0 technology powers your devices much faster than conventional charging, no need for power outlets. QC 3.0 technology is 38% more efficient than QC 2.0.
TE100 can charge 2 devices simultaneously, perfect for sharing!
With TE100, you can get 3.75x full battery for your smartphone or tablet - average time.
TE100 charges to full battery in just 4-4.5 hours (depends on adaptor)
Small, stylish, sleek, and durable. Fits in the palm of your hand, perfect super-fast charging for on the go use!
TE100 has short circuit and overload protection (prevents the device from overheating). For maximum protection for you and your devices.
TE100 has 4 small white LEDs to indicate the battery percentage: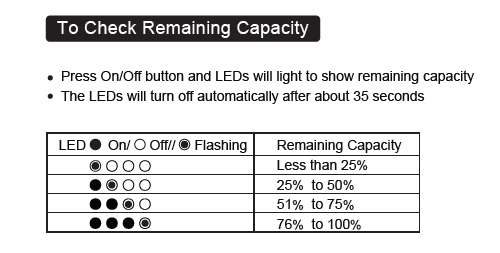 High performance to meet high demands. Designed to cope with a diet of social media, web browsing, videos and selfies!
If your device feels run down and tired - revitalize it with Tech Energi®. Suitable for use at home, the office or on the go.
Specifications
Model No.: TE100
Capacity: 10000mAh
Battery Cell Type: Li-ion Battery Cells
CE and RoHS certified
Input: Type-C PD DC 5V/3A, 9V/2A, 12/1.5A
Output: Type-C DC 5V/3A,9V/2A,12/1.5A
Output: QC 3.0: DC 5V/3A,9V/2A/12/1.5A
Charging time: 9V/2A 2.5H, 5V/3A 4h
Carlos Delivery
We Offer Free Same-Day Delivery to All Our Local Gibraltar Customers…
Same-Day Delivery is Available on All Orders Placed Before 14:30 (Monday-Friday).
We Also Aim to Deliver on Saturday's & Bank Holidays!
At Carlos, we endeavour to provide a seamless delivery service that allows you to continue shopping from the comfort of your home.
Getting you your order as soon as possible is a priority, however, same-day delivery is subject to the availability of our delivery team.
Our Delivery Team is Active During the Following Hours:
15:30 – 18:30 (Monday – Friday)
15:00 – 16:00 (Saturday's & Bank Holidays)
If you experience any issues or have a query regarding our delivery service, please reach out to our customer service team: support@carlos.gi
Shipping Abroad
For Any Orders Outside of Gibraltar Please Contact Us Via One of the Following Methods:
Email: support@carlos.gi
WhatsApp: +350 200 78841
We Will Do Our Best To Attend Your Enquiry Within 24 Hours!
---
We Also Recommend
---